Embroidery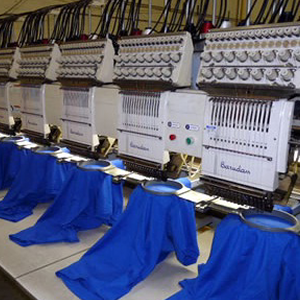 Our embroidery department offers top-notch quality. We provide you that conversation starter or professional look for your team, organization, or business. The embroidery department is always working hard to enhance the process and make their stitched designs better each time. With a department filled with people who have a passion for embroidery, quality, and efficiency we believe that our embroidery will be exactly what you need.

Machine embroidery is an embroidery process whereby a sewing machine or embroidery machine is used to create patterns on textiles. It is used commercially in product branding, corporate advertising, and uniform adornment. It is also used in the fashion industry to decorate garments and apparel. Machine embroidery is used by hobbyists and crafters to decorate gifts, clothing, and home decor. Examples include designs on quilts, pillows, and wall hangings.
There are multiple types of machine embroidery. Free-motion sewing machine embroidery uses a basic zigzag sewing machine. Designs are done manually. Most commercial embroidery is done with link stitch embroidery.[1] In link stitch embroidery, patterns may be manually or automatically controlled. Link Stitch embroidery is also known as chenille embroidery, and was patented by Pulse Microsystems in 1994. More modern computerized machine embroidery [2] uses an embroidery machine or sewing/embroidery machine that is controlled with a computer that embroiders stored patterns. These machines may have multiple heads and threads.
Most modern embroidery machines are computer controlled and specifically engineered for embroidery. Industrial and commercial embroidery machines and combination sewing-embroidery machines have a hooping or framing system that holds the framed area of fabric taut under the sewing needle and moves it automatically to create a design from a pre-programmed digital embroidery pattern.
Depending on its capabilities, the machine will require varying degrees of user input to read and sew embroidery designs. Sewing-embroidery machines generally have only one needle and require the user to change thread colors during the embroidery process. Multi-needle industrial machines are generally threaded prior to running the design and do not require re-threading. These machines require the user to input the correct color change sequence before beginning to embroider. Some can trim and change colors automatically.[3]
A multi-needle machine may consist of multiple sewing heads, each of which can sew the same design onto a separate garment concurrently. Such a machine might have 20 or more heads, each consisting of 15 or more needles. A head is usually capable of producing many special fabric effects, including satin stitch embroidery, chain stitch embroidery, sequins, appliqué, and cutwork.